Welcome to Emmaus
Sundays - 9am & 11am
Happening Now!
Summer Discipleship Classes
This summer, invest in your walk with Jesus through one of our incredible discipleship classes being offered by the Emmaus Institute. Classes begin June 8th right here on campus - explore the options and signup today!
Find out more!
NEW Sermon Series - Esther!
Join us beginning Sunday, June 5th as we begin an all new sermon series through the Old Testament book of Esther, exploring how a perfect God uses imperfect people!
Find out more!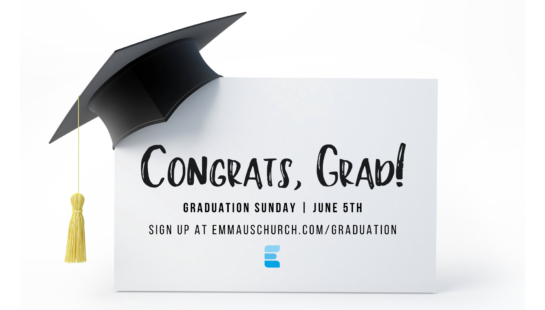 Graduation Sunday
On Sunday, June 5th, we will be taking a moment in our services to recognize recent graduates from high school and college. Would you like to be included?
Signup Now
Serve the City - June 4th!
Join us on Saturday, June 4th as we host a neighborhood block party at Eagle Creek Apartments to serve and share Jesus with our community! This is a great way to live on mission for Jesus right here in our backyard! Join us!
Find out more!
Emmaus Kids Summer Serve
Come serve on our awesome Emmaus Kids Ministry team this Summer! We would love for you to check out what it's like to serve with the Kids of Emmaus. Summer serve allows you to serve from June-August in a Preschool or Elementary room. Just fill out the form by clicking below!
Sign Up to Serve!
Summer Text Series
Emmaus Parents! Our Summer Text series is going to offer you help in laying the foundations for spiritual conversion through conversation and activities with your kids. Emmaus Kids Ministry is providing magnets to help your child remember what they are learning. Use these magnets as you lead them through the GOSPEL text series! You can pick them up at Kids Ministry check-in centers.